Current Position:Home>News
Email: medrootmedical@163.com
Email: sales@medrootmedical.net
Address: No.9,Floor 13,SCD Building,Sanhe New Village,Longhua District,Shenzhen,China
Philadelphia Cervical Collar Helps Those Who Have Cervical Spondylosis
      Now many people are living with various kinds of bad habits. Cervical spondylosis attacks many of us, it is a disease caused by our improper living habits. Everyone of us should pay great attention to this disease and must have treatment in time once it happens in our life.
      A good cervical collar could be very helpful for the treatment of cervical spondylosis. In this article, Medroot Medical is going to recommend a cervical collar made of environmentally-friendly materials. This light-weight medical device gives users a favorable feeling of comfort.
      People with cervical spondylosis can be treated gradually with the help of this cervical collar. This cervical collar has a front part and a rear part, the two parts are connected by two velcro tapes. For the treatments of kids, it has a small paediatric size. And there are also four sizes for adults including small, medium, large and extra large.
      With a suitable size of cervical collar, users can get rid of cervical spondylosis and recover in a short time. Medroot Medical hopes this cervical collar could be helpful for all friends who have cervical diseases.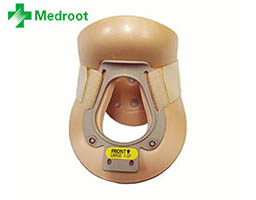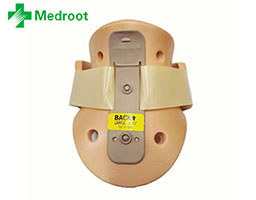 Shenzhen Medroot Medical Co.,Ltd.:
Medroot Medical is professional supplier for medical braces. We provide cervical collar, arm sling, waist brace, wrist splint, etc.
Customers looking for orthopedic braces please kindly contact us. Our E-mail: medrootmedical@163.com