Current Position:Home>News
Email: medrootmedical@163.com
Email: sales@medrootmedical.net
Address: No.9,Floor 13,SCD Building,Sanhe New Village,Longhua District,Shenzhen,China
Adjustable Splint for Knee Joint Injuries
      Physical exercise is very important for us, we can build up our bodies and release our pressure while doing exercise. But we should be always careful to avoid injuries cause by sports. Our knee joint might get hurt easily during some strenuous sports, such as football, basketball and taekwondo.
      In order to help patients with knee injuries, we created an adjustable knee splint. This knee splint is suitable for the therapies of arthritis, meniscus injury, knee fracture and joint dislocation. It has only one universal size, which could perfectly fit all patients. Its length can be extended from 50 centimeters to 62 centimeters.
      This knee splint is designed with two extensible hinges and four adjustable fabric straps. The fabric straps are made of bonded fabric, sponge and tricot loop velvet. The extensible hinges are made of plastic parts and steel bars.
      Its curative effect was proven by many clinical cases, indubitably, patients can cure their knee diseases with the help of this knee splint. Customers who have additional questions about this product, please contact us for more details.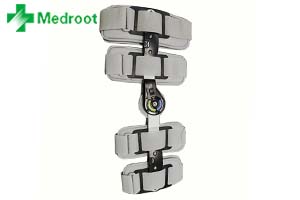 Shenzhen Medroot Medical Co.,Ltd.:
Medroot Medical is professional supplier for medical braces. We provide shoulder brace, wrist splint, TLSO brace, knee splint, orthopedic walker boot, etc.
Customers looking for orthopedic braces please kindly contact us. Our E-mail: medrootmedical@163.com